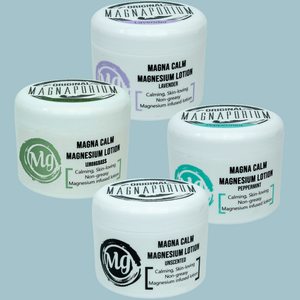 Sampler Pack - Original Magna Calm Magnesium Lotion - 4-2 oz lotions
Regular price $48.00 $38.00 Sale
2 oz. Sampler Pack includes 4 - 2oz. original magnesium lotions in lavender, peppermint, lemongrass, and unscented

About the product
Get the benefits of both magnesium & essential oils in one easy-to-use, skin-loving, non-greasy lotion
Formulated to deliver over 275 mg/tsp of magnesium chloride to make your whole body feel great from your head down to your toes with a 100% satisfaction guarantee or your money back!
Avoid gastrointestinal issues by using a transdermal (through the skin) absorption method for magnesium and trace minerals
Because we love natural products, we formulated this lotion using ingredients without added dyes, preservatives, artificial scents & colors, formaldehyde, parabens, mercury, lead, arsenic or fluoride
The unscented version can be used as is or you may add your own special combination of essential oils
Ingredients
Organic aloe vera gel (water & aloe vera gel concentrate, citric acid, sodium benzoate 0.001%), pure Zechstein seabed magnesium, vegetable derived emulsifying wax, organic sunflower oil, organic coconut oil, organic olive oil, organic castor oil, organic hemp oil, organic avocado oil, organic grapeseed oil, organic essential oil, and rosemary antioxidant
Do not use if you have an allergy or sensitivity to any of the ingredients. Test lotion in a small area on the bottom of feet to check for sensitivity.
Scents
Lavender, Peppermint, Lemongrass, and Unscented
To extend the life of the oils, keep the lotion in the refrigerator until it is ready to be used.  Upon opening, it may be left out at room temperature with no problem.